'Tis the season to find the right Christmas Party shoe
The holiday season is upon us, and with it comes a calendar filled with festive gatherings, from office parties to family get-togethers. It's the perfect time to dress up, and what better way to complete your outfit than with the perfect pair of shoes? At ALDO Shoes, we've got just the thing to make your Christmas party look shine: the new Stessy2.0 heel.
Elegant, Sparkling and Chic
The Stessy2.0 heel is designed to be the star of the show. With its light beige colour and stunning embellishments, it's the epitome of elegance and glamour. Whether you're dancing the night away at a holiday soiree or sipping champagne at a cosy gathering, these heels will have you turning heads and feeling like a million bucks.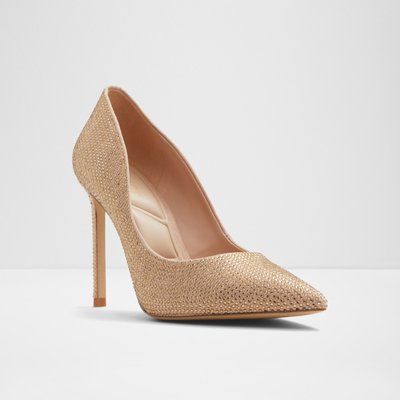 Versatile Style for Every Occasion
One of the best things about the Stessy2.0 heel is its versatility. It pairs perfectly with a variety of outfits, from your favourite little black dress to a trendy jumpsuit. Whether you prefer a classic or modern look, these heels are the perfect finishing touch.
Comfort Meets Style
We understand that looking fabulous is essential, but so is feeling comfortable. The Stessy2.0 heel doesn't compromise on comfort. With a cushioned insole and a secure fit (thanks to our embedded Pillow Walk Technology), you can dance the night away. So enjoy the party without worrying about your feet – that's the ALDO promise.
This Christmas, it's not just a shoe; it's the shoe that will make your holiday season memorable. The Stessy2.0 heel from ALDO Shoes – your perfect party companion.